Chief Executive Officer, Weld Australia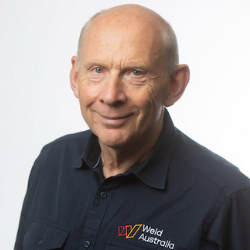 Geoff Crittenden joined Weld Australia in December 2014 from the Risk Management Institute of Australia. He is a chartered engineer with a diverse background in CEO roles covering not-for-profit, consulting, engineering contracting and healthcare.
He started his career as an engineer in the British Army where he served in Northern Ireland, Cyprus and Germany.  Following the fall of the Soviet Union he decided upon a career change and, with his family, immigrated to Australia.  His first role was Chief Executive of the Association of Consulting Engineers after which he held leadership positions with Transfield Worley, Cynergy Group, Tianda Pharma and the Risk Management Institute.
Outside of work Geoff has served on the boards of Northside Montessori School and Turramurra Community Bank.  He is a passionate sports fan with a particular interest in rugby union, cricket and tennis.
Geoff is a graduate of the Royal Military Academy Sandhurst, Royal Military College of Science, School of Mechanical Engineering and British Army Staff College.