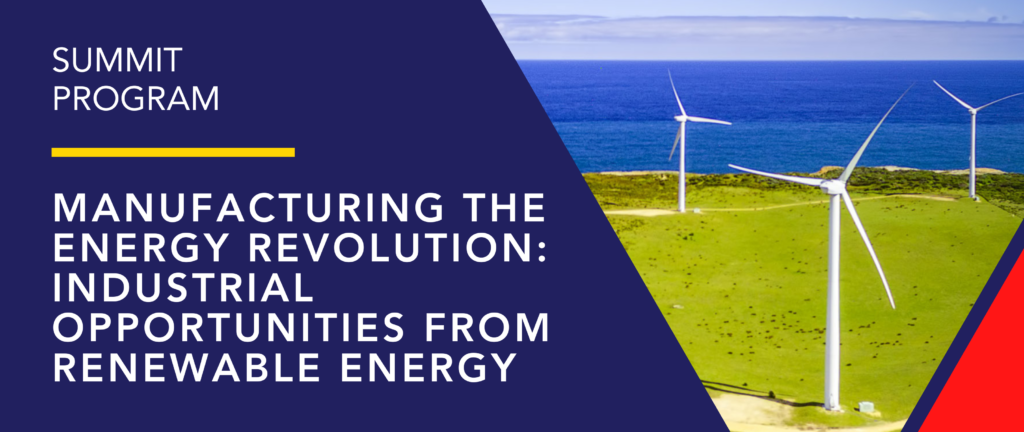 WEDNESDAY 2 AUGUST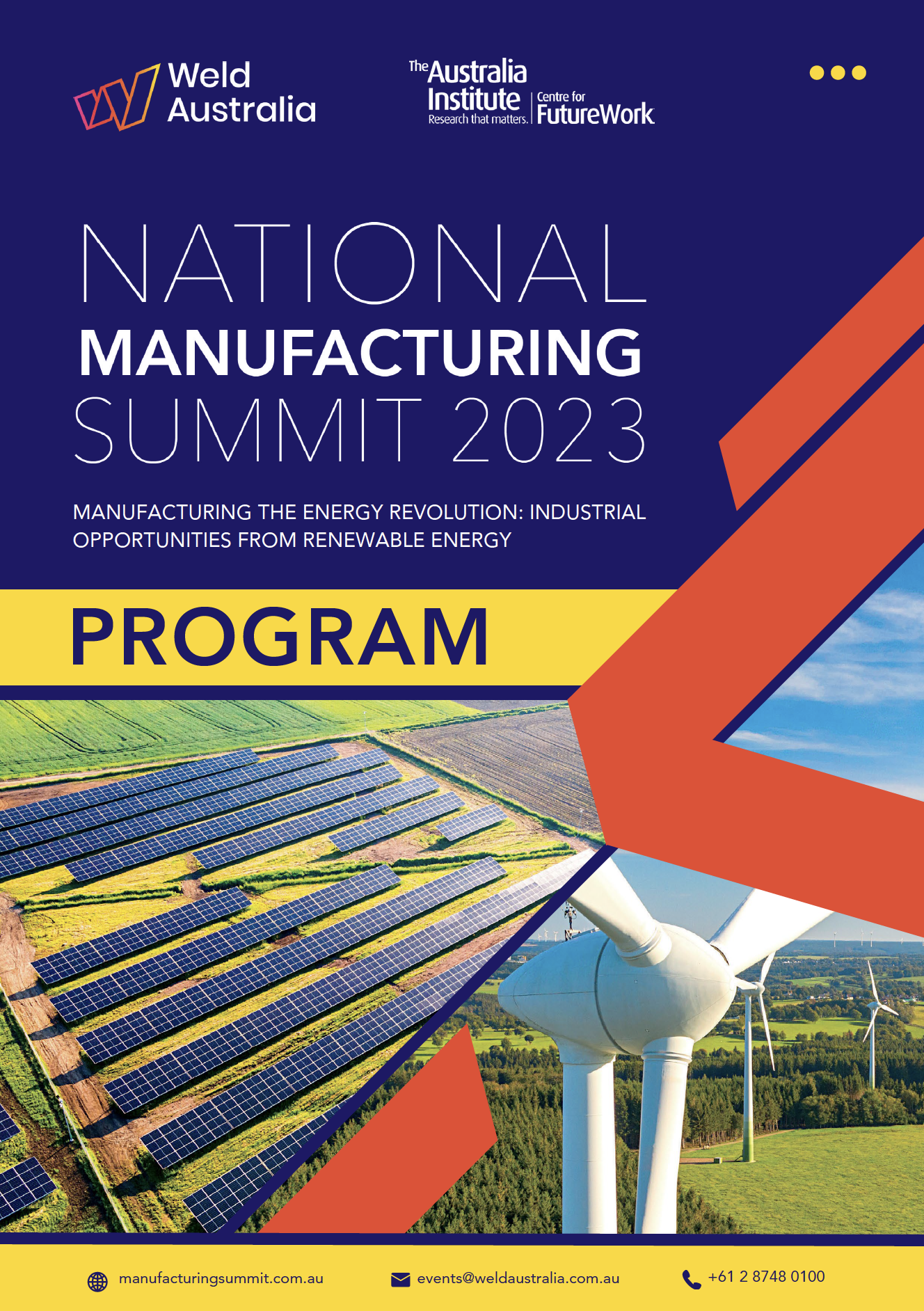 The Welcome Dinner will start at 6:30pm on Wednesday 2 August, and feature:
MC Ellen Fanning, Host of ABC TV's The Drum
THURSDAY 3 AUGUST
Registration will begin at 8:00am on Thursday 3 August for an 8:30am start.
Welcome
8.30am: MC Ellen Fanning, Host of ABC TV's The Drum
8.35am: Hon Tim Ayres, Assistant Minister for Manufacturing
Session 1: Research Report: Australia's Position in the Global Race for Sustainable Manufacturing
8.45am: Jim Stanford, Economist & Director, The Australian Institute & Centre for Future Work; and Charlie Joyce, Anne Kantor Fellow, Carmichael Centre
Session 2: Manufacturing the Renewable Energy Revolution
9:10am: Dan McKinna, General Manager, Keppel Prince
9:30am: Simon Preston, Group General Manager, Precision OxyCut
9:50am: Emily Scivetti,  Chief Operating Officer, Oceanex
10:10am: Q&A
Morning Tea (10:40am to 11:10am)
Session 3: The Changing Policy Landscape
11:10am: Hon Lance McCallum, Assistant Minister for Energy Queensland
11:20am: Fredrik Andrén-Sandberg, Head of Public Affairs APAC, Vestas Asia Pacific
11:40pm: Tim Buckley, Director, Climate Energy Finance
12:00pm: Q & A, Adam Hersh, Senior Economist, Economic Policy Institute – Washington
Lunch (12:30pm to 1:30pm)
Session 4: Developing an EV Supply Chain in Australia
1:30pm: Kirk McDonald,  Project Manager, Supercharge Australia
1:50pm: Katie Hepworth PhD, Political & Strategic Advisor, Australian Manufacturing Workers Union
2:10pm: Q&A
Afternoon Tea (2:30pm to 3:00pm)
Session 5: Making it Happen: An Action Plan for Sustainable Manufacturing in Australia
3:00pm: Hon Brendan O'Connor, Minister for Skills and Training (via video)
3:10pm: Ben Oquist, Climate & ESG Director, DPG Advisory Solutions
3:20pm: Michele O'Neil, President, Australian Council of Trade Unions
3:30pm: Geoff Crittenden, CEO, Weld Australia
3:45pm: Q & A
Conference Close       
4:15pm: MC Ellen Fanning, Host of ABC TV's The Drum; and Geoff Crittenden, CEO, Weld Australia
Morning tea, afternoon tea and lunch provided.
Please note that the above is a provisional program only. The full program and all speakers will be finalised in the coming weeks.