The 2018 National Manufacturing Summit will see a diverse group of industry stakeholders assemble at Parliament House in Canberra on Tuesday 26 June.
The Summit gathers leading representatives from all the major stakeholders in Australia's
manufacturing sector—business, unions, universities, the financial sector, suppliers, and government – to discuss the sector's prospects, and identify promising, pragmatic policy measures designed to support an industrial turnaround. With the theme Solutions to Critical Issues – Energy and Technical Training, the aim of the Summit is to leverage the opportunities currently available in the manufacturing sector, and translate these into action.
Background
The inaugural National Manufacturing Summit was held in June 2017 at Australian Parliament House in Canberra. Hosted by the Centre for Future Work, the Summit was themed 'Converting Opportunity into Action. Summit partners included the Welding Technology Institute of Australia, Australian Steel Institute, Advanced Manufacturing Growth Centre, Australian Super and UTS Business School.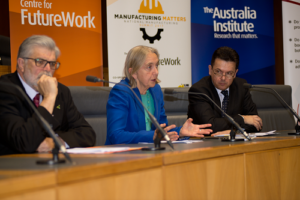 Speakers and panel participants included leading industry spokespersons from across the political spectrum. Minister for Industry Sinodinos, Shadow Minister Carr, and Senators Xenophon and Rhiannon acted as speakers and panel participants, along with key industry figures. The summit was attended by over 100 delegates from a wide range of stakeholders including federal and state government departments, business, unions and universities. The program opened new ground in the policy dialogue over how to sustain and nurture this vital segment of Australia's economy.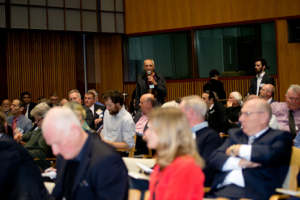 The 2017 Summit generated important media coverage, including a feature on ABC's RNBreakfast with Fran Kelly, a feature article in the Guardian, commentary from Rob Burgess in The New Daily, and a series of articles in Manufacturers' Monthly, Australian Welding and other industry publications.
In 2018, the WTIA has taken lead responsibility for delivering the summit. The intent is to have a progressive, constructive, and forward-looking discussion on key issues affecting the manufacturing industry in Australia right now