Australia requires a significant increase in skilled, qualified trades workers in order to meet future demand on major projects in industries as diverse as defence, shipbuilding, aerospace, infrastructure, rolling stock, and resources.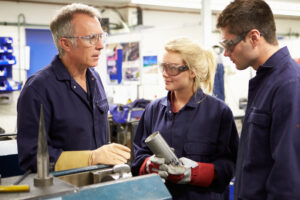 The manufacturing sector is experiencing a period of sustained growth, and industry participants continue to cite workforce capability as an ongoing challenge. Finding and retaining skilled workers is front of mind, as is maintaining currency of skills and knowledge.
At the same time, a decade of state and federal government policies has diminished the role of the vocational education and training (VET) sector and, in particular, TAFE.
A targeted strategy for workforce development is crucial and will require the manufacturing industry and the VET sector to work together to ensure its success.
The Summit will explore the theme 'Skills for the Future' and will highlight the importance of a skilled workforce capable of competing at an international level. Delegates will hear from leading experts from the manufacturing, training and skills sectors on what they can do now to future proof their organisations, as well as themselves.
Registrations are now open – click here to secure your place today
---
Skilled Workforce in Australia
According to a recent employment outlook survey in Australia, skilled trades workers (such as electricians and welders), engineers (electrical, civil and mechanical) and technicians are scarce. In fact, 34% of Australian employers admit that filling job vacancies is increasingly difficult, mainly due to lack of applicants (25%), lack of skills (21%), and lack of experience (19%).
This lack of skilled workers is compounded by strong employment growth. Recent labour force data from the Australian Bureau of Statistics indicates that employment growth among manufacturers surged by 86,000 over the past 12 months—the highest growth rate of any Australian industry—closely followed by both the mining and construction industries. Similarly, there is a projected employment growth rate of 7.2% over the next five years for structural steel and welding trade workers.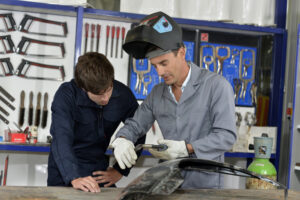 This employment growth rate is not surprising given some of the major projects on the horizon, from the Federal Government's $90 billion Naval Shipbuilding Program, through to major infrastructure projects such as the $12 billion Sydney Metro project, and the $5 billion Melbourne Airport Rail Link.
The skills shortage is clearly reaching breaking point in Australia.
Having an appropriately sized, skilled, readily-available workforce at the right time is key to delivering these major projects. Developing this workforce presents a complex and long term challenge—it requires a significant amount of individual training and company up-skilling to meet global standards.
Perhaps more importantly, it requires a shift in thinking and a focus on the skills that will be essential to the manufacturing industry of the future, such as automation, robotics, advanced manufacturing processes. Government, industry and education all play a role in solving this complex, long-term challenge, and in attracting, skilling and retaining workers.